Piketty's book is about income inequality. The online database allows visitors to generate income data and grahics for a variety of countries. I developed the following illustration to convey the idea. However, visitors to the database don't need to develop any graphics. They simply pick the country, top income group, and range, then the database program automatically displays the data and graphs.
For example, Piketty's data (based on tax records) show that the top 10% in the U.S. earned 48.16% of the income in 2012. The top 1% earned 19.34%, while the top .1% earned 8.82% of the income.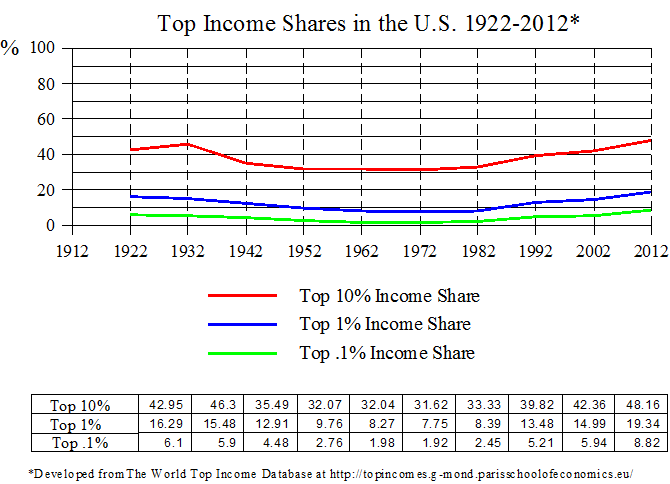 Piketty's data can be viewed at The World Top Income Database*
The following reviews of Thomas Piketty's book are from Paul Caron's Blog*. I was made aware of this list by Bob Jensen.
Businessweek, Six Strange Facts About the No. 1 Book on Amazon.com
Financial Times, Lessons From a Rock-Star Economist
Forbes, Piketty's Capital Shortcomings
Harvard Business Review, Piketty's "Capital," in a Lot Less than 696 Pages
Los Angeles Times, Thomas Piketty's Income Inequality Tome Tops Amazon Bestseller Lists
Monthly Review, Deeper Reflections on Thomas Piketty's "Capital"
New York Times, Hey, Big Thinker: Thomas Piketty, the Economist Behind 'Capital in the Twenty-First Century' Is the Latest Overnight Intellectual Sensation
New York Times, Piketty, Doom Loops and Haymarket
New York Times, Piketty and the Petits Rentiers
New York Times, Piketty's Book on Wealth and Inequality Is More Popular in Richer States

Quartz, Ten Ways to Fight Inequality Without Piketty's Wealth Tax
Reuters, The Piketty Pessimist
Time, Here's Why This Best-Selling Book Is Freaking Out the Super-Wealthy
Vox, Thomas Piketty Doesn't Hate Capitalism: He Just Wants to Fix It
Wall Street Journal, Thomas Piketty Revives Marx for the 21st Century: An 80% Tax Rate on Incomes Above $500,000 Is Not Meant to Bring in Money for Education or Benefits, but 'to Put an End to Such Incomes'
Washington Post, How Piketty's Research Shaped Wealth Gap Debate
__________________________________________________________________
Related Sites:
Piketty's database is available at The World Top Income Database.
The U.S. Census Bureau has lots of additional data on income inequality including a Gini index.
The World Bank Poverty Reduction & Equity - Measuring Inequality
What is a Gini index? See the Lorenz Curve graphing tool and Gini coefficient calculator.
For a related paper see Buchanan, M. 2002. Wealth happens. Harvard Business Review (April): 49-54. (Buchanan describes a universal law of wealth based on a network effect that appears to have some important implications for economic policy). (Note).
An organization with the goal of stimulating policy changes within U.S. higher education to help arrest the dangerous and growing economic divergence between rich and poor in out country". Social Mobility Index