Citation: Martin, J. R. Not dated. Illustration of common cause vs. special cause variation. Management And Accounting Web. https://maaw.info/DogInYard.htm
Shewhart's concepts of variation include:
Common causes - variation caused by the system frequently referred to as system variation or random variation.
Special causes - variation caused by something that is not part of the system of common causes.
For a simple illustration of these concepts assume that a dog is allowed to roam around a fenced-in back yard, but not allowed to go outside the fence. The dogs movements inside the fence are common to the system established by the dog's owner. These movements within the fenced-in area represent common cause variation. The dog is in control as long as it is inside the fence.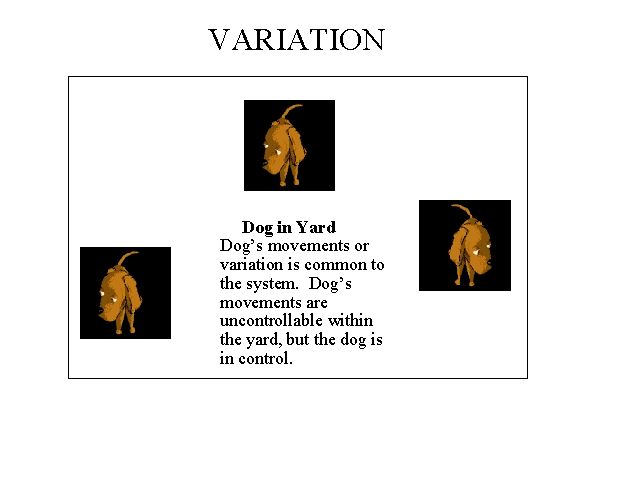 If the dog jumps the fence to visit a neighbor's cat, then the dog is out of control. The dog's movements outside the fence represent special cause variation.
Dog jumps Fence to see Cat.

Outside the fence the Dog is out of control
and the Dog's movements represent special cause variation.
_____________________________________________
Related summaries:
Deming, W. E. 1993. The New Economics For Industry, Government & Education. Cambridge: Massachusetts Institute of Technology Center for Advanced Engineering Study. (Summary).
Martin, J. R. Not dated. Chapter 3: Cost Behavior Analysis & Statistical Process Control - Part II. Management Accounting: Concepts, Techniques & Controversial Issues. Management And Accounting Web. https://maaw.info/Chapter3PartII.htm
Martin, J. R. Not dated. Deming's Theory of Profound Knowledge. Management And Accounting Web. https://maaw.info/DemingExhibit.htm
Martin, J. R. Not dated. What is the red bead experiment? Management And Accounting Web. https://maaw.info/DemingsRedbeads.htm