Citation: Martin, J. R. Not dated. The Du Pont ROI Graphic. Management And Accounting Web. https://maaw.info/DuPontROIGraphic.htm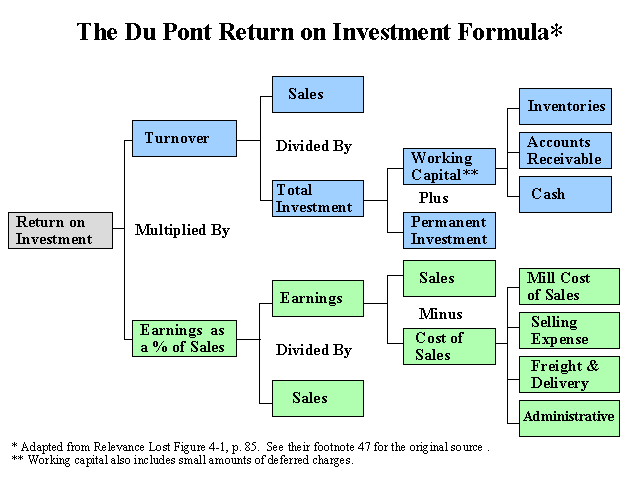 _______________________________________________
* The original source of this illustration is noted in a footnote on page 91 of Relevance Lost. Davis, T. C. 1950. How the Du Pont organization appraises its performance. AMA Financial Management Series No. 94: 7. American Management Association.
Related summaries:
Clinton, B. D. and S. Chen. 1998. Do new performance measures measure up? Management Accounting (October): 38, 40-43. (Summary).
Johnson, H. T. and R. S. Kaplan. 1987. Relevance Lost: The Rise and Fall of Management Accounting. Boston: Harvard Business School Press. (Summaries & additional information).
Martin, J. R. Not dated. Comparing Dupont's ROI with Goldratt's ROI. Management And Accounting Web. https://maaw.info/ComparingDupontGoldrattROI.htm
Martin, J. R. Not dated. Return on Investment Read Diagram. Management And Accounting Web. https://maaw.info/ROIReadDiagram.htm
Martin, J. R. Not dated. Chapter 14: Investment Centers, Return on Investment, Residual Income and Transfer Pricing. Management Accounting: Concepts, Techniques & Controversial Issues. Management And Accounting Web. https://maaw.info/Chapter14.htm