NCAA Division I1
FBS Football Rankings Final AP Polls 1939-2022
Provided by James R. Martin, Ph.D., CMA
Professor Emeritus, University of South Florida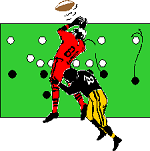 ACC and SEC Football Schedules, Scores and Polls
My purpose in developing this section is to consolidate and condense the AP college football polls into a few graphic illustrations. Until 2014, there was no official national champion. The title was granted by the different polling agencies, mainly the Associated Press Poll (AP), and the Coaches' Poll that do not always agree. Since the College Football Playoff Committee started picking the top four playoff teams, the winner of the final game is usually considered the legitimate national champion. However, the final college football rankings have always been controversial, and probably will continue to be controversial in the future.2
The College Football Playoff Committee's (CFPC's) final rankings (starting with the 2014 season) were released prior to the playoff and bowl games. Although there are no post-season CFPC rankings, the Final AP polls reflect the results of the playoff and bowl games. The AP Final polls have been released after the bowl games since 1968. Before 1968, the polls were usually released prior to the bowl games. See the notes attached to the graphics on the early years for relevant bowl game results.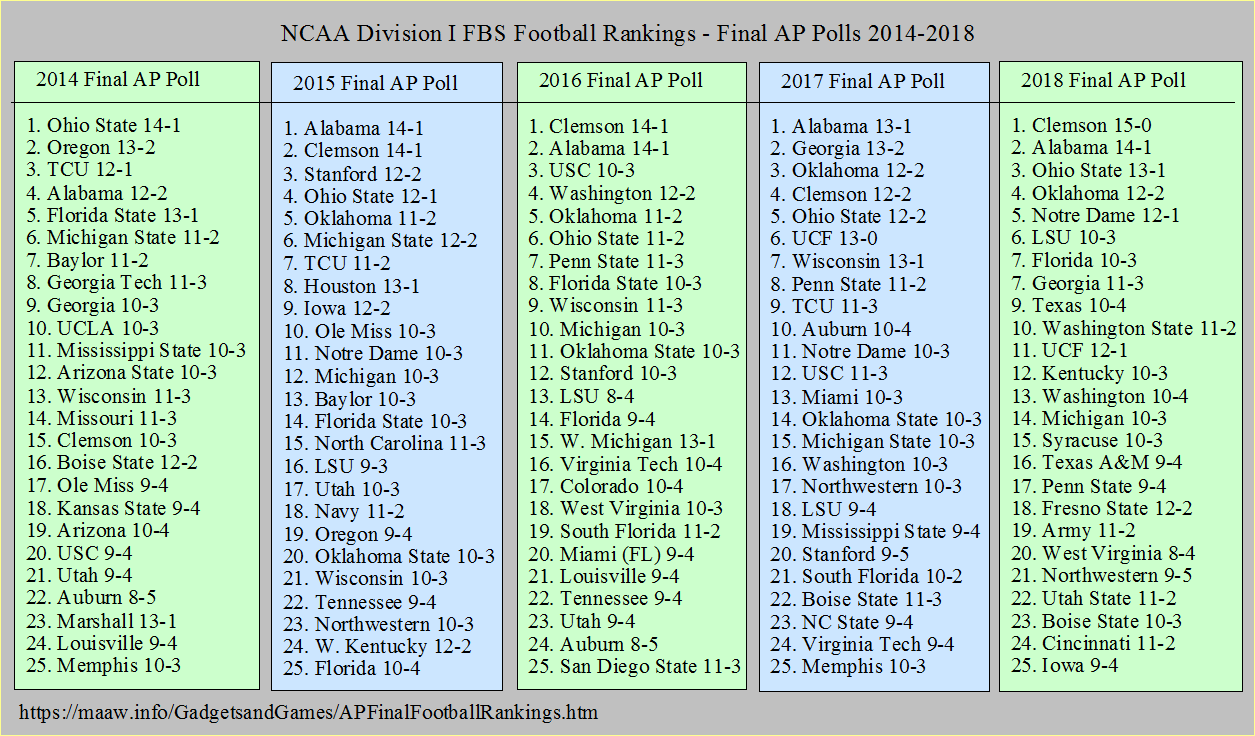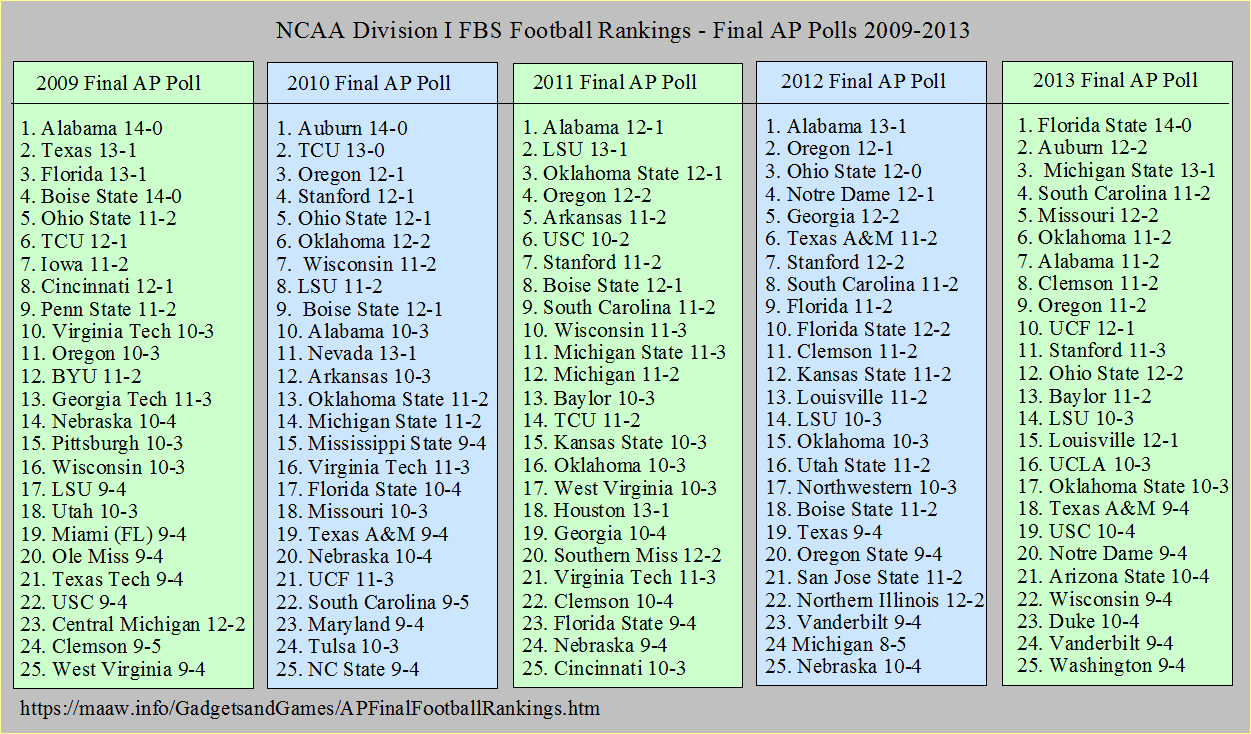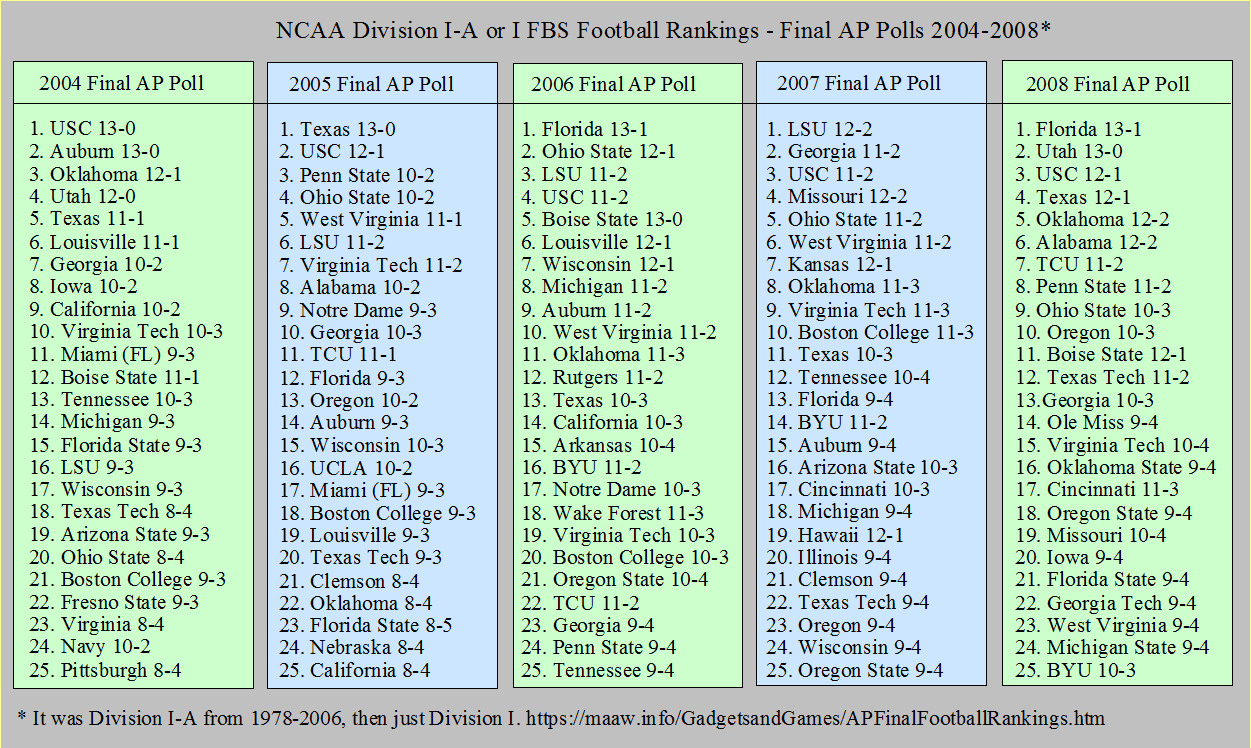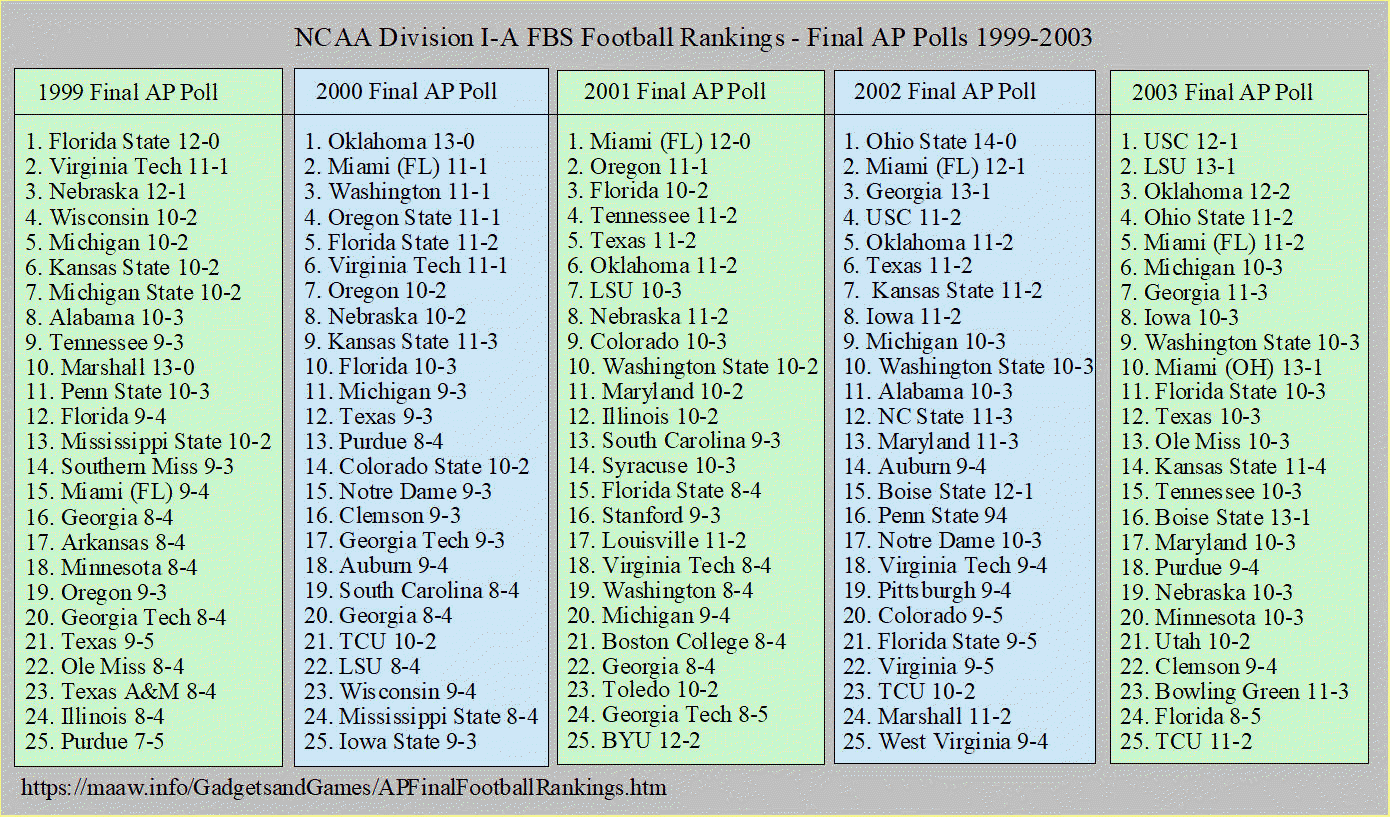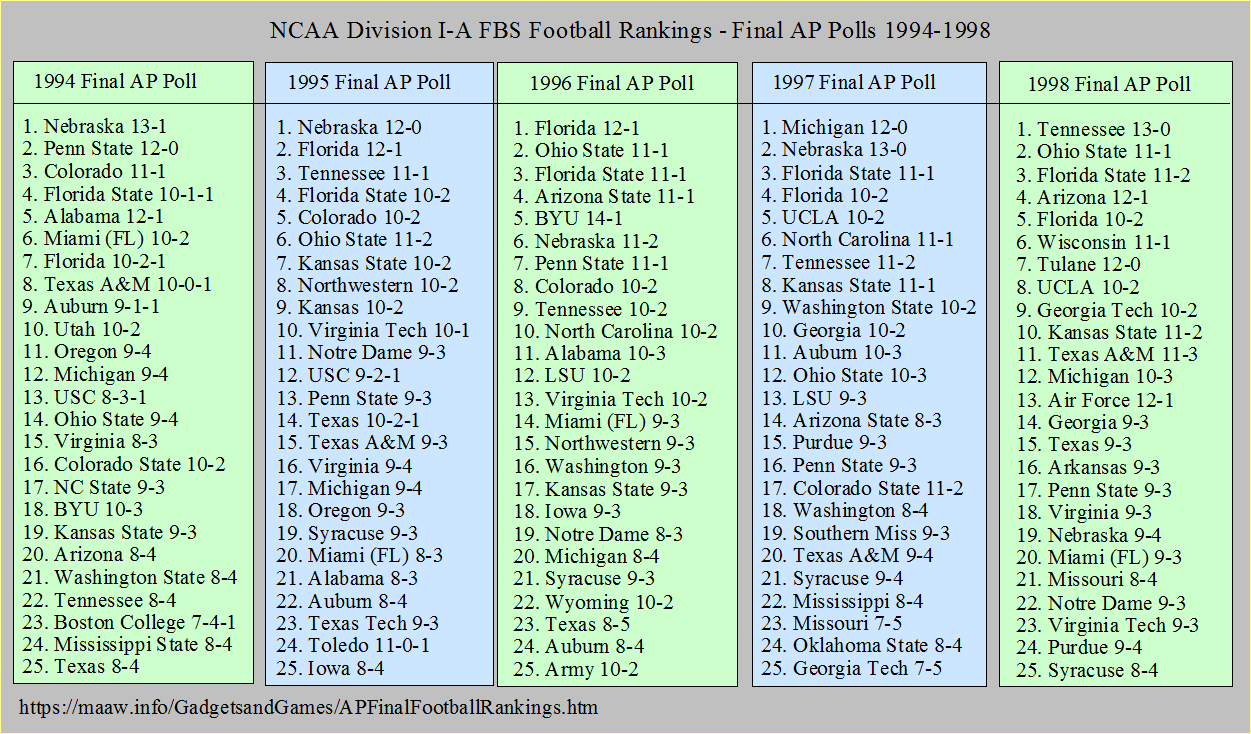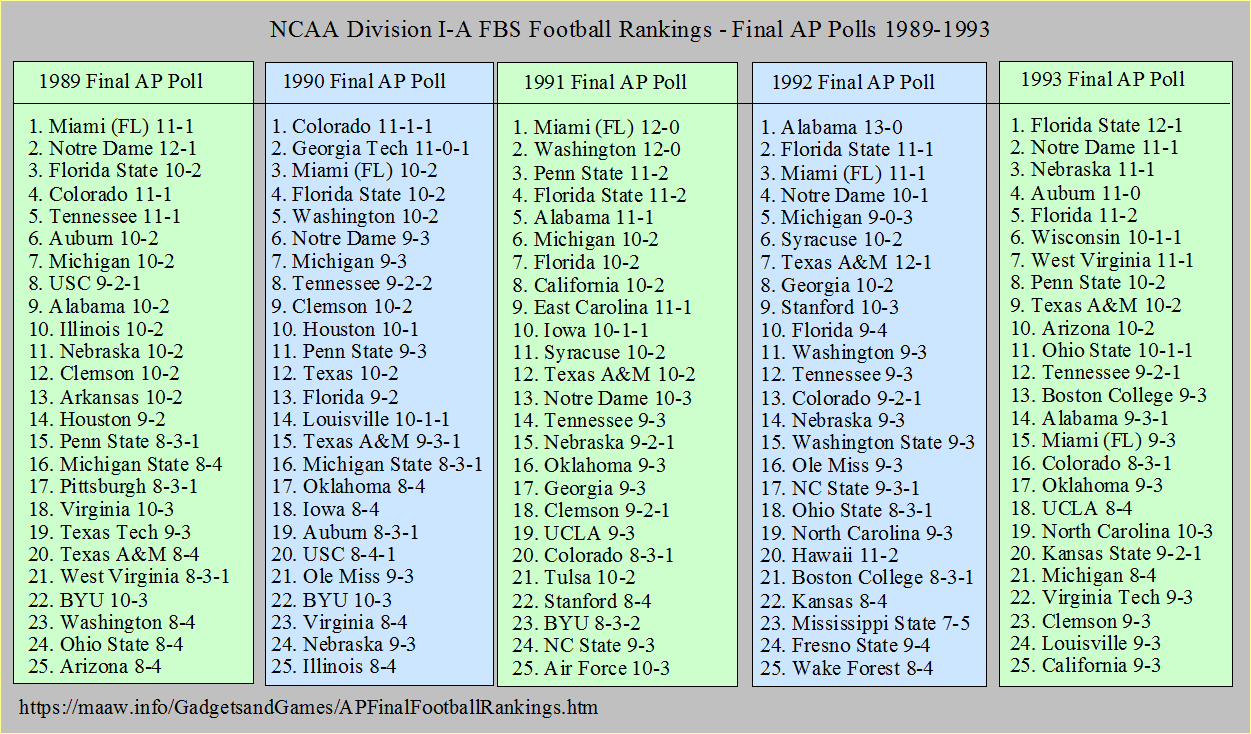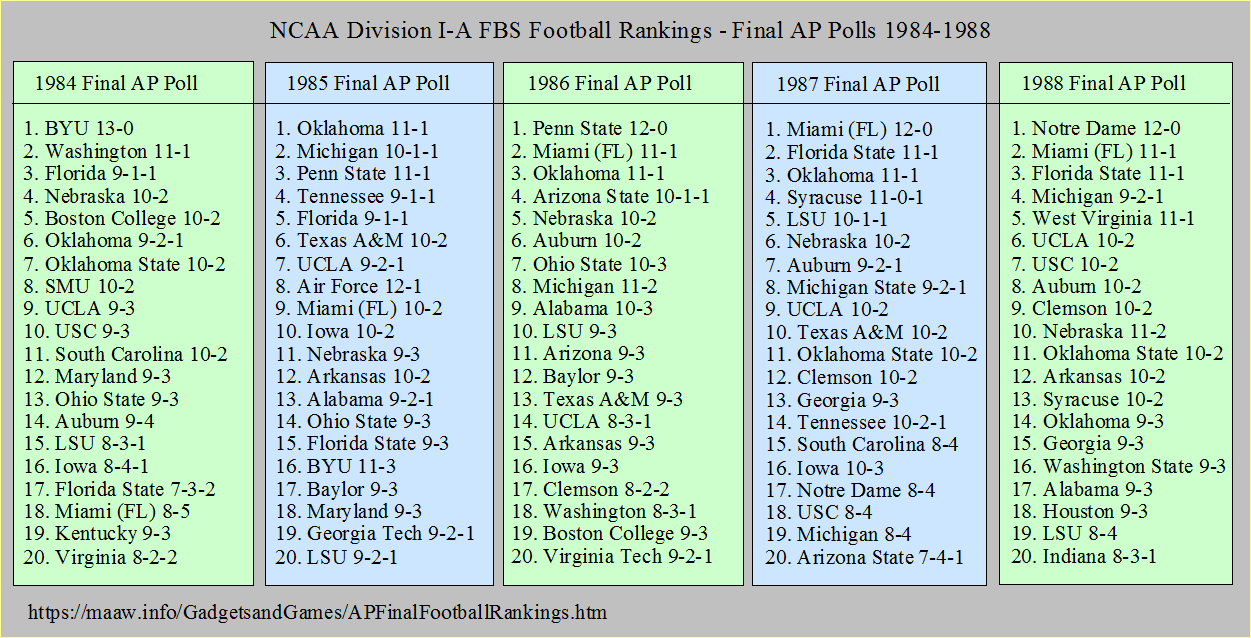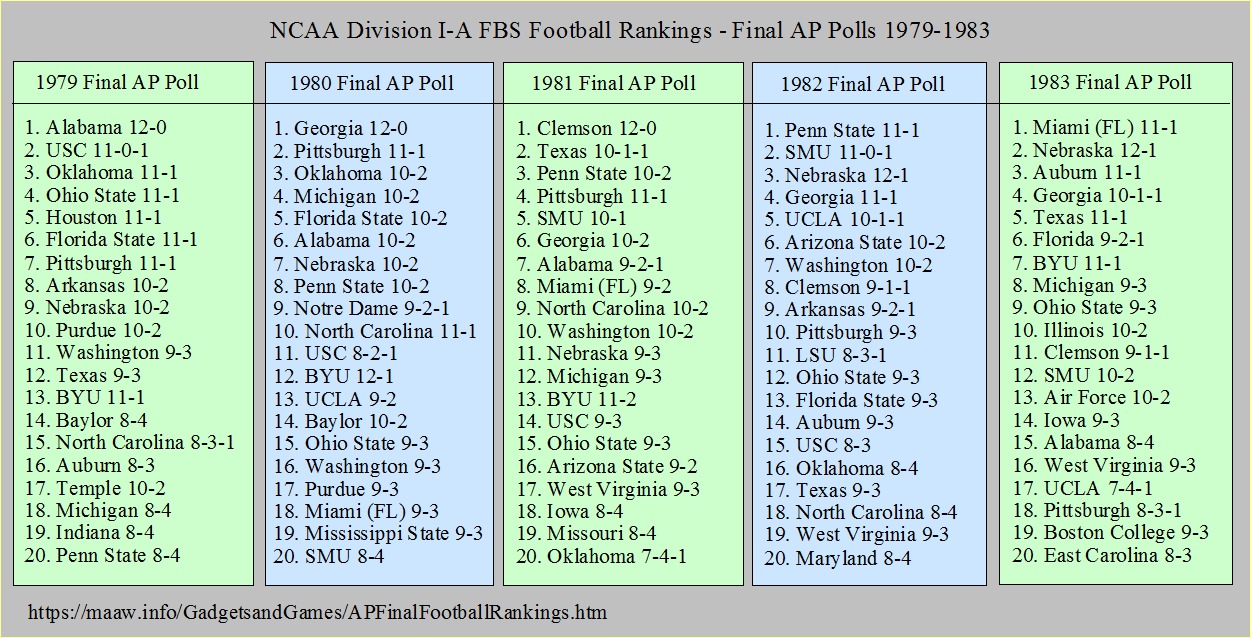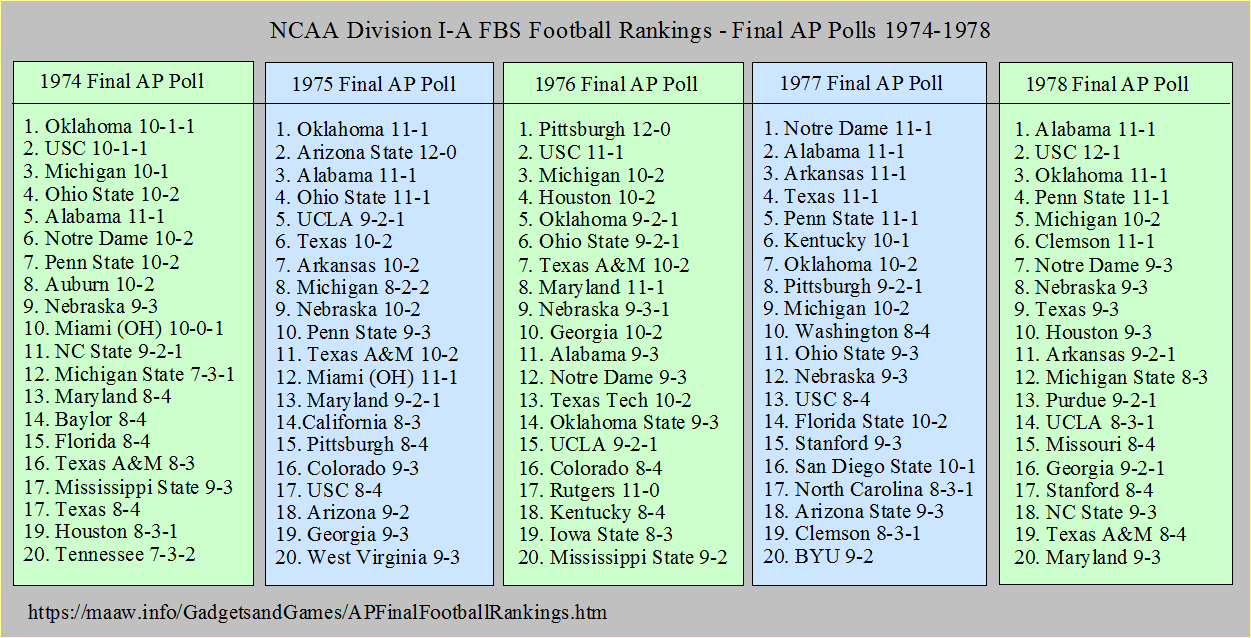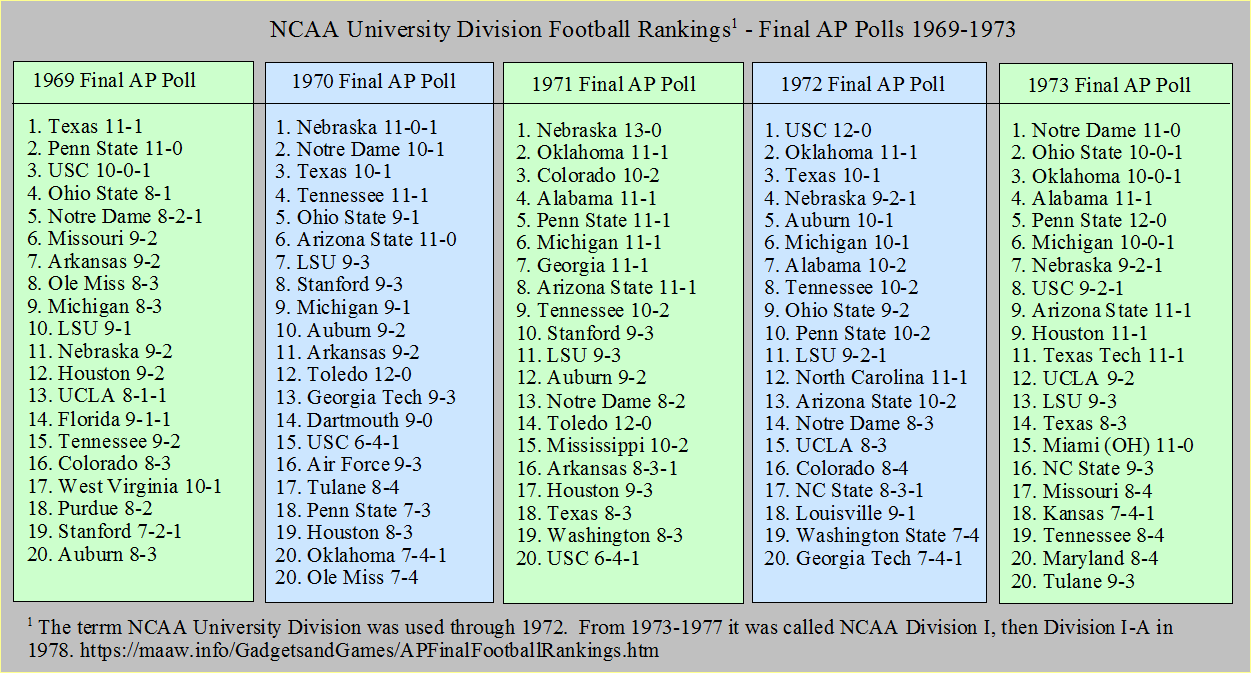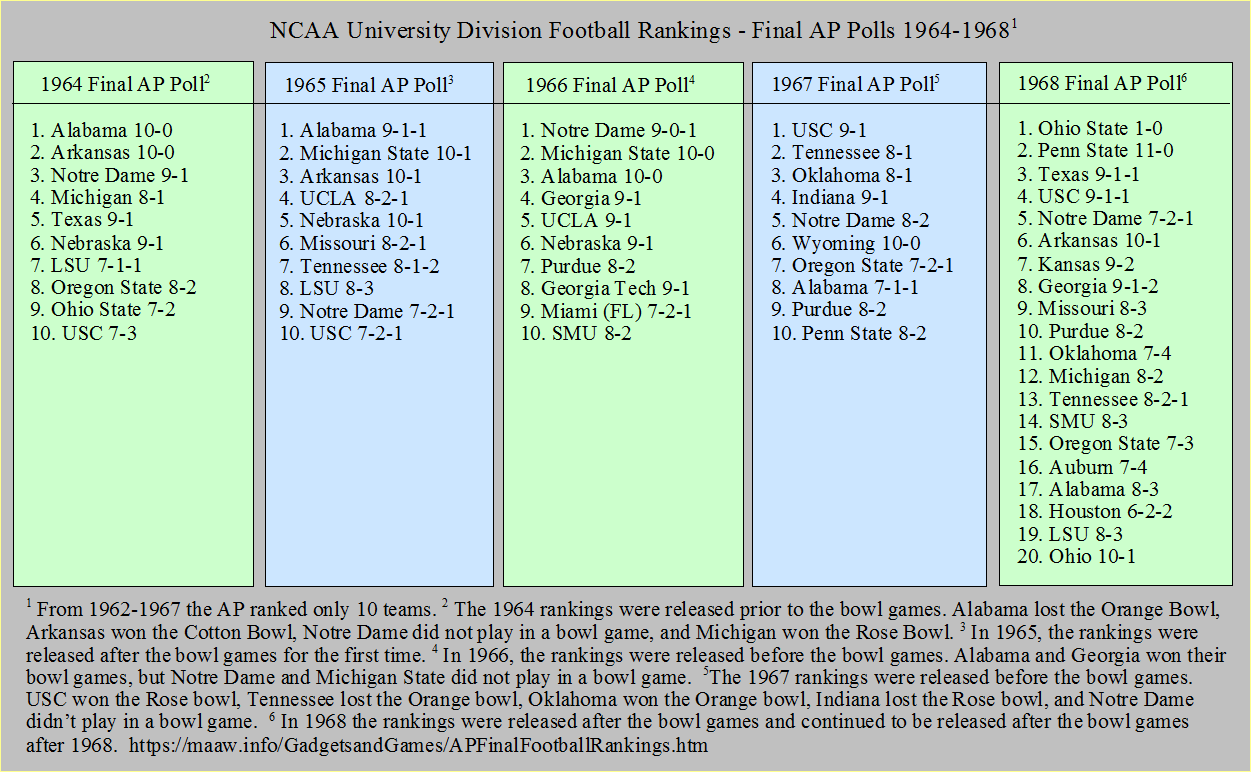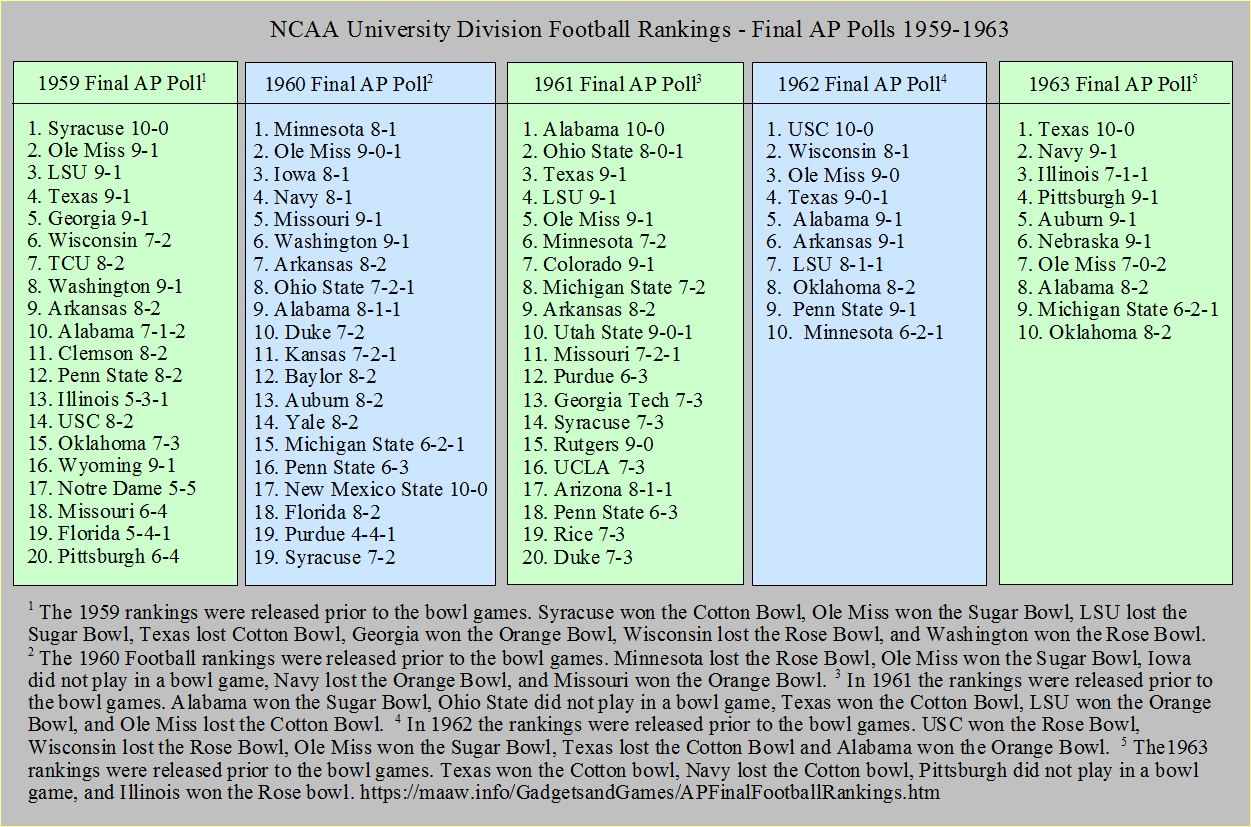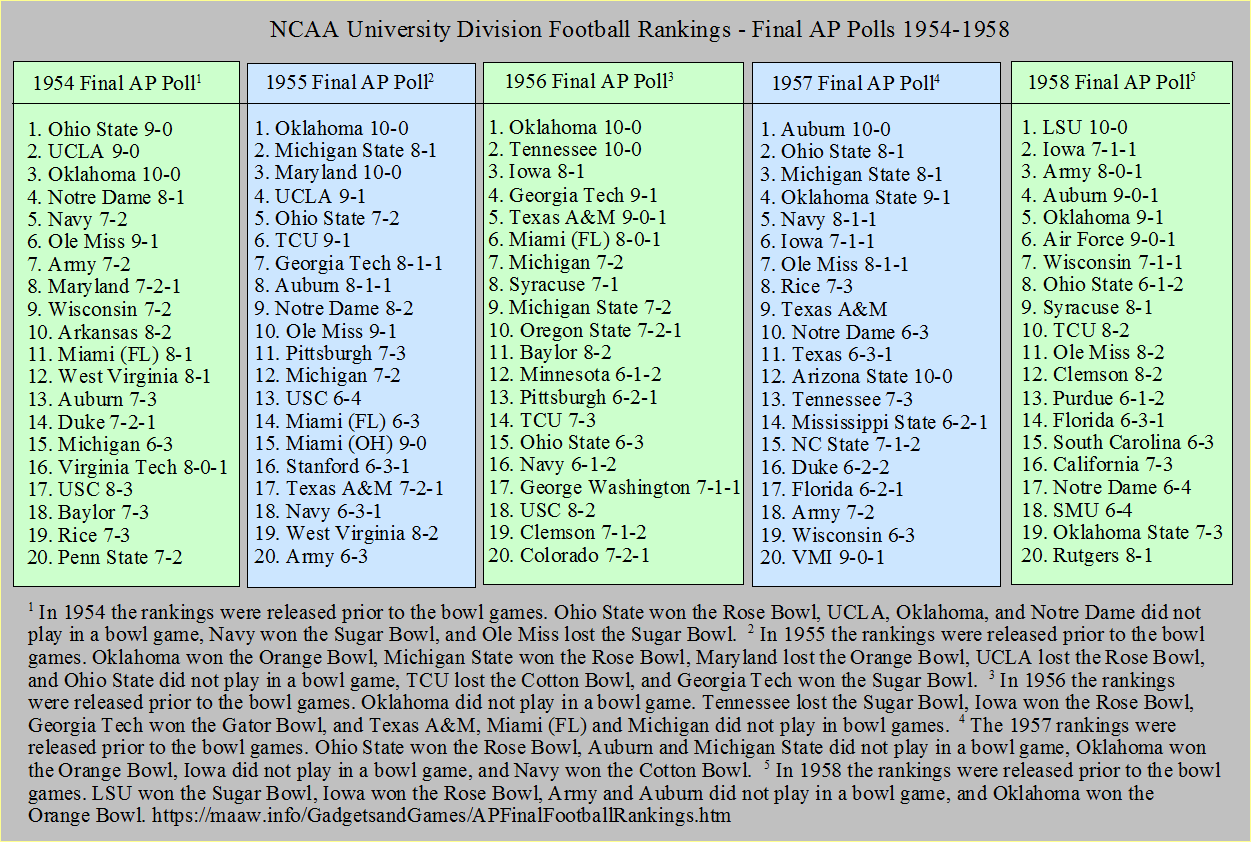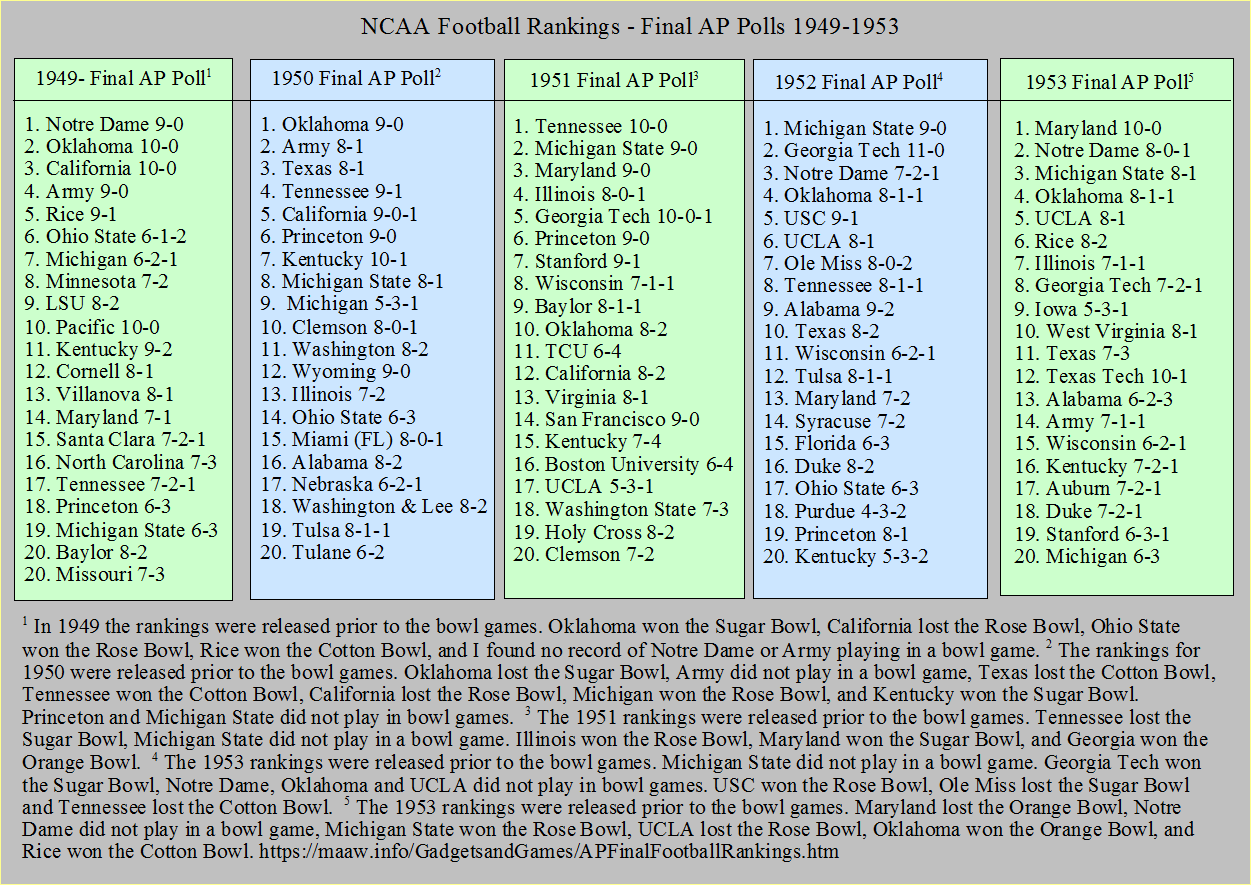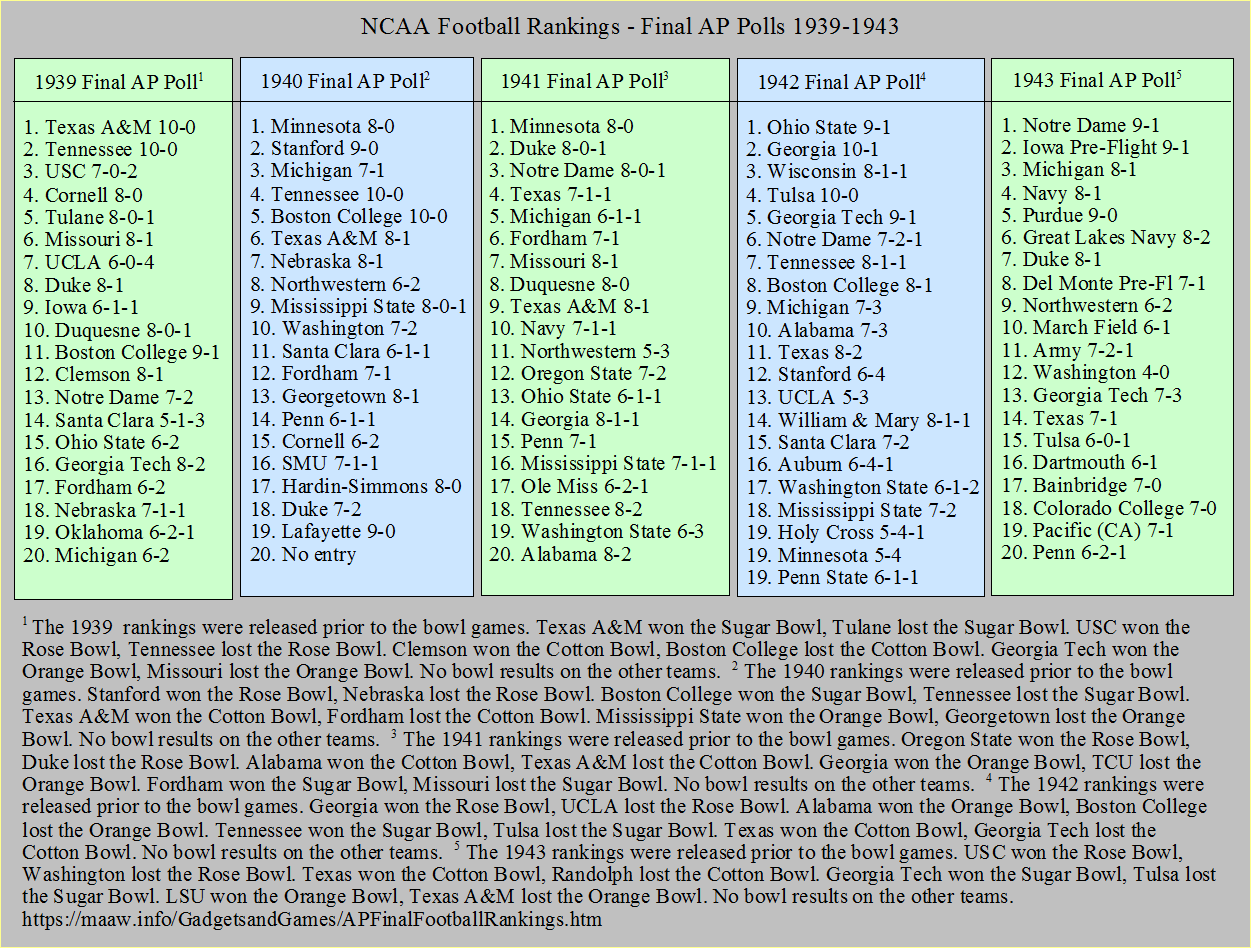 ______________________________________________
Notes:
1 The term University Division was used through 1972, then NCAA Division I from 1973-1977, NCAA Division I-A from 1978-2006, then just NCAA Division I after 2006. FBS stands for "Football Bowl Subdivision".
2 It is worth noting that conference championships are fact based while national championships are opinion based. A Conference Champion has achieved the best record in their conference based on games won compared to the other teams in their conference. A National Champion gets into the playoffs based on the opinions of the playoff committee participants. Prior to the playoffs (that began in 2014) the National Champion was based on the opinions of the AP poll and Coaches poll participants. Perhaps Conference championships get less emphasis than they deserve because they are devalued by the over emphasis and hype of the playoffs. See the ACC and SEC champions in the related summaries below.
References:
Most of the rankings for the graphic illustrations above are from Wikipedia where the AP and Coaches Polls are provided week by week for each year. For example, see football_rankings
The bowl game results that appear in my footnotes for years 1949-1953, 1944-1948, 1939-1943, and 1936-1938 (Cotton, Orange, Rose, and Sugar Bowls) are from Wikipedia's four sections on those games.
Related summaries:
ACC Football Champions 1953-2023
SEC Football Champions from 1933-2023
Final AP Polls for Teams with two National Championships